The Artist ^^
The Artist ^^
Exhibitions (Solo):
Gallery Lez'art en ville (by Yvert), Amiens
Gallery L'atelier de la poissonnerie, Chateauroux
Gallery Yvert, Amiens
Gallery of the frenchtech, Amiens
Les Orfèvres, white car for a year/ 3 seasons, Amiens
Honor Salons of the hippodrome for Amiens
Lobby, restaurant & bar, Novotel Amiens
Le Café, Amiens
Divinita, Amiens
​
Exhibitions (collective) :
Gallery Anthony Huyn, Amiens
Gallery de l'AAC, Amiens
Gallery Yvert, Amiens
Gallery, OOkad, Amiens
on line Gallery "les amis des arts de la somme", Amiens
Christmass exhibition "Marché de noël", Amiens
Art Salons :
​Carre des créateurs, Colombes, France
Commands and inquiries
realisation of a piece of art for 170 years anniversary of the Hippodrome d'Amiens, GNT 2020, piece of art is exhibit in Salon d'honneur du président.
illustrations, book covers, drawings :
illustration for the cover of the book " La convergence Organisationnelle", B.Zittel, Y.Poley, S.Biquand, Autoproduit
Permanent exhibition
Galerie Yvert, Amiens
my Art studio in Amiens
Bio
After 30 years as entrepreneur, in february 2018, I changed my way of living, sold my seats in my company, moved to Amiens and did create a gap between my old life and my new one.
It's inside that timewrap that drawing and writing have grown, asking for more space and beginning to provoke vibrations with the past years of traveling, of observing world and work of others. I am quite amazed, really, by the place taken by this new activity, and forced to consider the ease with which I can create. I love it.
I must say that I am very surprised, approaching my 50's, to discover that I can draw a bit ;) just in a few months, it's already more than 700 drawings that have reached the light. My drawings recall memories of journeys, encounters, histories, but also of hystory and phylosophy and tell a few about how i see and feel our contemporary world.
who i Am ? for the visible part
born 1968 in Châteauroux, a small town in the center of France where there was not much to do till the 90's
CEO of my own company, ergonomist, since 1997, I created 2 companies and was involved i 4 (in which 1 startup). I do observe a lot and I've been trying to understand the work of others and what can be improved for 24 years.
I lived a year in states in 1987-1988 in Salt Lake City, on a Rotary exchange programm; 4 months in Budapest in 1991. I travelled a lot throughout Europe, in which Poland during "l'état de siège" in 1983.
European Globe trotter would certainly describe me better than Artist ;)
It took me 3 times to get my "Bac" (exams at the end of highschool, not automatic in France), to end up with a PHD diploma in Ergonomics (M2 Human sciences, ergonomics), which can be related to a small dose of perseverance and could be seen as not too bad for the future of border lines students, or not :) Childhood in Chateauroux, then student in Brive la Gaillarde, Angers and Lyon.
23 years in Grenoble, and now in Amiens, north of France.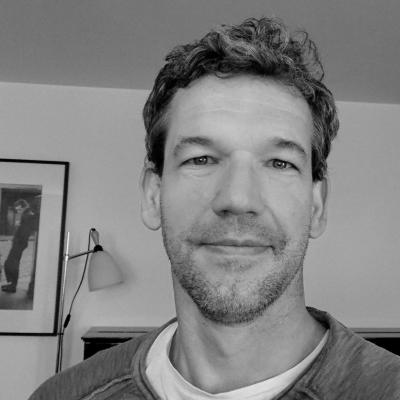 In all my creations, the line is very present, straight and clean, as for the black. Big walls and variations of Pierre Soulages had impressed me a lot to consider what is creation and innovation. I must admit I am fund of geometrical schemes of Victor Vasarely that were omnipresent when I was a young boy, and when J.M Jarre created his LP "Oxygène". Kind of a new graphical era.
Vassily Kandinsky and Juan Miro' are of course my masters regarding how to deal with lines and forms, and superpositions. Being able to follow them and to escape from their styles to make colors pop up like Jean Michel Basquiat or François Glineur is quite a challenge, that I wish I will one day realise.
I never thought than humas are very intelignet as a specie, and Picasso, especialy Guernica, illustrates for me our violence and our inability to produce something nice and good. the 5th element from Luc Besson does make a point and as the poor monks, alone and quite ununderstanded, we do, as artists stand helpless in this world that is going to disappear.
I am very concerned about climate and violence. I think you can feel it in my art. These two topics do echo for me with heavy metal and rock that I kept by my side for years, as well as nowadays Billie Eilish, Dub Inc or lately Debussy. On this strong musicals bounces, I see myself jumping from the trees of Giuseppe Penone, exploding like the colors of Francis Bacon and burned as in the last australian fires.

I love what is intense, i love movement and pulsation. I think i do live like that.
Artistic strategy ?
My vibration, for those who know me, is the present; but this present is marked by human history, myths, rumors and vibrations. I do have the feeling to be an emotion "buvard", mine, those of ohters, those of the world itself.

In front of the blank page, first come the big lines, strong and deep. They do not negociate alternatives, they mixed in many ways announcing the forecoming creatures and shapes that are going to animate my drawings, my canvas. I don't thnik it over. I draw like in an automatic writing trans. It's my life story that comes to life, and the past centuries too.
Then, I wait, I feel, I observe. I let the noise come to silent, come to peace. the canvas talks to me and I fill it by small pieces, by differents lines, parralel, mixed, black, couloured, ... and finally it ends up in something that always surprises me.This process can last for days or weeks, i do not know before it happens.
When I think about it, I really don't know where it's is stored, i do not know how it comes, how it's there, on the paper. It's like dumping 30 years of memories, at once, like snapshots that filters the contemoray world sensations.
It certainly always comes to a moment where the canvas' name is needed. At that moment, all makes sense, kilometers of drawned lines tell me why they came to end up in that special composition.
I love that magic vibration between words and drawings. It's like a sparkling soap bubble that explodes over the drawing, spilling its understanding, giving a meaning while it spreads on the drawing.
"J'adore"
Create
Creation is really something I underestimated for a long time. Of course, I do draw for a long time, on my school books, on pages of paper, on my pencil case... while i was dreaming, phoning, on post-it blocs, on black or white boards...
I also took drawing as a class during my O-level year in USA, 1 hour a day, it helps to improve a bit ;)
And in my job too, i did often use drawings to illustrate what i meant, quickly, on a table corner, in a booklet... i do not know how to talk without drawing, and i do talk quite a lot...
The first hint has been made thanks to Pierre Morize, in our group GERME Touch where we had to draw a poster for the group, then later on a day of personal thinking with Anouchka, great person. It was the writing that popped out that day with this sparkling aspect, and yet many others things coming from the sincerity of those companions in the group with whom I shared 6 years of my life (quite much), all those little things that let the little voice say "ok, what if ?"
The second clue, I own it to Catherine, my beloved neighbour, that was reading my writings on my facebook page and whom told me one night of a neighbour fest : 'at the next meeting of my reading club, i shall propose a booklet of your writings, would you put it all together for me ? it's next wedenesday". I had then to work quite a bit to gather all my texts in a novel looking like something that could be read. This showed me that the road is open to whom dares to walk.
The third act of this wonderful drama was made by Eve, my dear muse, that came to me one day with a packet of Velin sheets and some feltpens, staring at me with this wonderful lovely smile saying something like "ok, what would happen if you try to draw seriously ?". it was last february, 2018. Since then the monster is running out there, the edge of the forest has been passed through and the sunlight is warming my face with delight.
Thanks, you all, infinitly